How Deep is the Ocean

Math Bass, Steve Bishop, Rochelle Feinstein, Mélanie Matranga, Albert Mertz
Shanaynay, 19 November - December 10, 2016

Courtesy the artists and Francesca Pia, Croy Nielsen, Carlos/Ishikawa, Overduin & Co. Photo © Nicolas Hosteing, Thibault Vanco.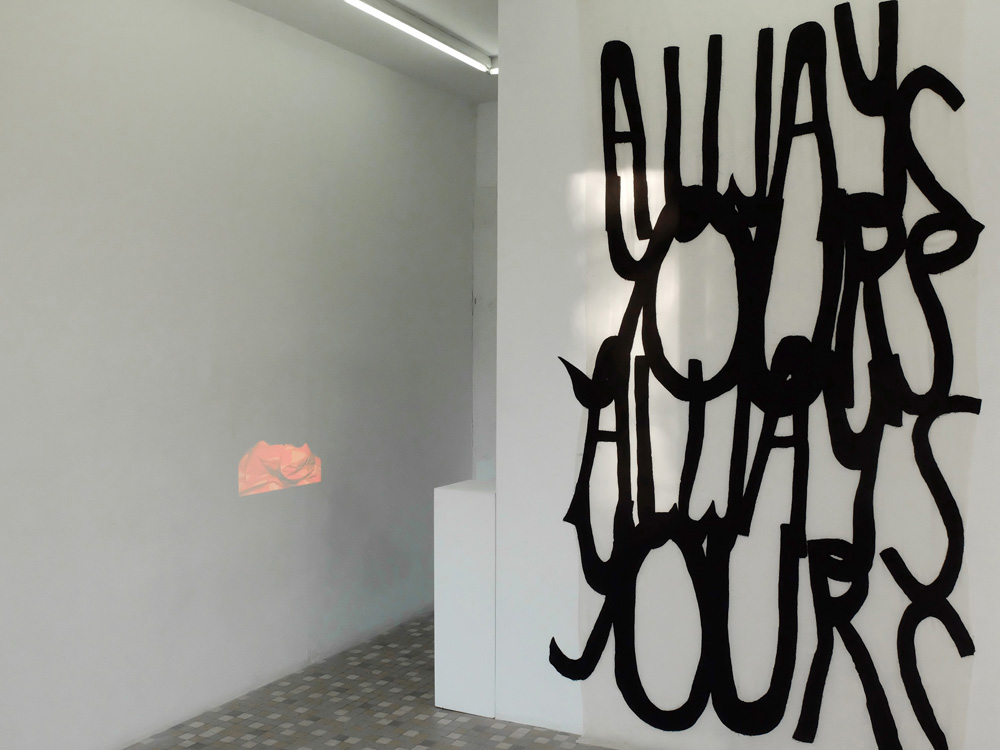 Rouge ou bleu. Faut-il vraiment se demander lequel est arrivé en premier ? Deux couleurs à l'état primaire dont les rapprochements tout comme les éloignements semblent pour autant ne rien dévoiler de leurs états conscients. Concentré d'existence. Shortcut amoureux. How Deep Is The Ocean. (?)

De ce voyage en mer baltique, nous retiendrons sa forte concertation en iode ainsi que sa fraicheur océan sous forme de bleu fluo électrique jadis écoeurant jusqu'à la rétine. Elle se manifestera cette fois, dans une version "sortie de bain" semblant défier la gravité par un mystérieux poids déposé au fond de ses revers, mais aussi ses protagonistes à la colorimétrie empruntée au procédé anaglyphique ayant la particularité de produire une vision en trois dimensions par la savante surimpression de ses filtres : l'un bleu, l'autre rouge. Décidément, ils nous collent à la peau.

Voici qu'en même temps, l'arrête de l'image se déplie pour laisser entrevoir son objet. "Cache-toi objet !" nous disait le chat de Chris Maker lorsqu'il nous parlait de Paris. (1) Peut-être s'est-il réfugié sous les costumes - toiles plein air dont les rayures (symboles de la moderne peinture) flirtent avec la signature du membre fondateur de BMPT (2), questionnant par là-même occasion le statut de cet océan des objets possibles oscillant entre fonction initiale et ultime. Ou bien se dissimule-t-il dans le contenu des messages dans lesquels nous projettent les "Love" multi-expéditeurs ou pluri-destinataires des speech bubbles. Est-ce encore possible d'échapper aux algorithmes de matching, aujourd'hui ? Extraites de leurs contextes, les terminologies de ce vocabulaire appartenant tant au langage intime qu'à la flatterie publique apparaissent encore plus riches de significations, toujours peu justifiables, encore moins quantifiables, de pures expressions immédiates de goût, en somme !

Se produit alors l'encodage des compliments et les banderolles de tissu où lettres et temporalités viennent à se chevaucher, en profitent pour signer "Always Yours".


Arlène Berceliot Courtin

_

1. Chris Marker, On vous parle de Paris : Maspero. Les mots ont un sens, 1970, noir et blanc, 16mm, 20 minutes.
2. Ces toiles imprimées étaient originellement utilisées pour les bains de soleil, stores de cafés, cabanes de plage, elles ont fait leur apparition dans le champ sémantique de la peinture dès 1965 par D. Buren et sont toujours disponibles dans ce même rayon du Marché Saint Pierre.



//


Red or blue. Do we really have to ask which came first? Two primary colors whose similarities, like their differences, seem to reveal nothing of their conscious states. Concentrate of existence. Amorous shortcut. How Deep Is The Ocean(?)

From this voyage in the Baltic sea, we retain its intense concentration of iodine as well as its oceanic briskness in the form of electric neon blue once sickening to the retina. This time it will reveal itself in a "just out of the bath" version seeming to defy gravity by a mysterious weight deep in its lapels, but also its protagonists of colorimetry borrowed from the anaglyphic process having the particularity of producing vision in three-dimensions by the expert overlay of its filters: one blue, the other red. Decidedly, they stick to the skin.

At the same time, the stopping of the image unfolds to allow a glimpse of its object. "Object, hide thyself!" Chris Marker's cat said when he spoke about Paris. (3) Maybe it was hidden in costumes - plein air paintings whose stripes (symbols of modern painting) flirt with the signature of the founding member of BMPT, questioning on this occasion the status of this ocean of possible objects oscillating between initial and ultimate function. Or is it dissimulated in the content of messages in which we project "Love" in multi-sender ou pluri-recepient speech bubbles. Is it possible to escape the algorithms of matching today? Extracted from their contexts, the terminologies of this vocabulary belong as much to intimate language as to public flattery appearing all the more rich of meaning, somewhat justifiable, still less quantifiable, pure immediate expressions of taste, in sum!

Producing then the encoding of compliments and the strips of fabric where letters and temporalities overlap, taking the opportunity to sign "Always Yours".

Arlène Berceliot Courtin
Translated by Ana Iwataki
_

3. Chris Marker, On vous parle de Paris : Maspero. Les mots ont un sens,1970, black & white, 16mm, 20 min.
4. This printed canvas were originally used for deck chairs, coffee awnings, beach houses, they entered in semantic of painting in 1965 by D. Buren. Those are still available in the same department store at Marché Saint Pierre.