And to End

Sarah Crowner, Philippe Decrauzat, Nicolas Roggy, Claudia Wieser
Moins Un, Paris, 2013


Courtesy the artists. Photo © Eric Tabuchi.

This exhibition has been supported by Mairie du 11è arrondissement, Paris, Goethe Institute, Paris, Fonds de dotation Agnès b, Pro Helvetia — Fondation suisse pour la culture.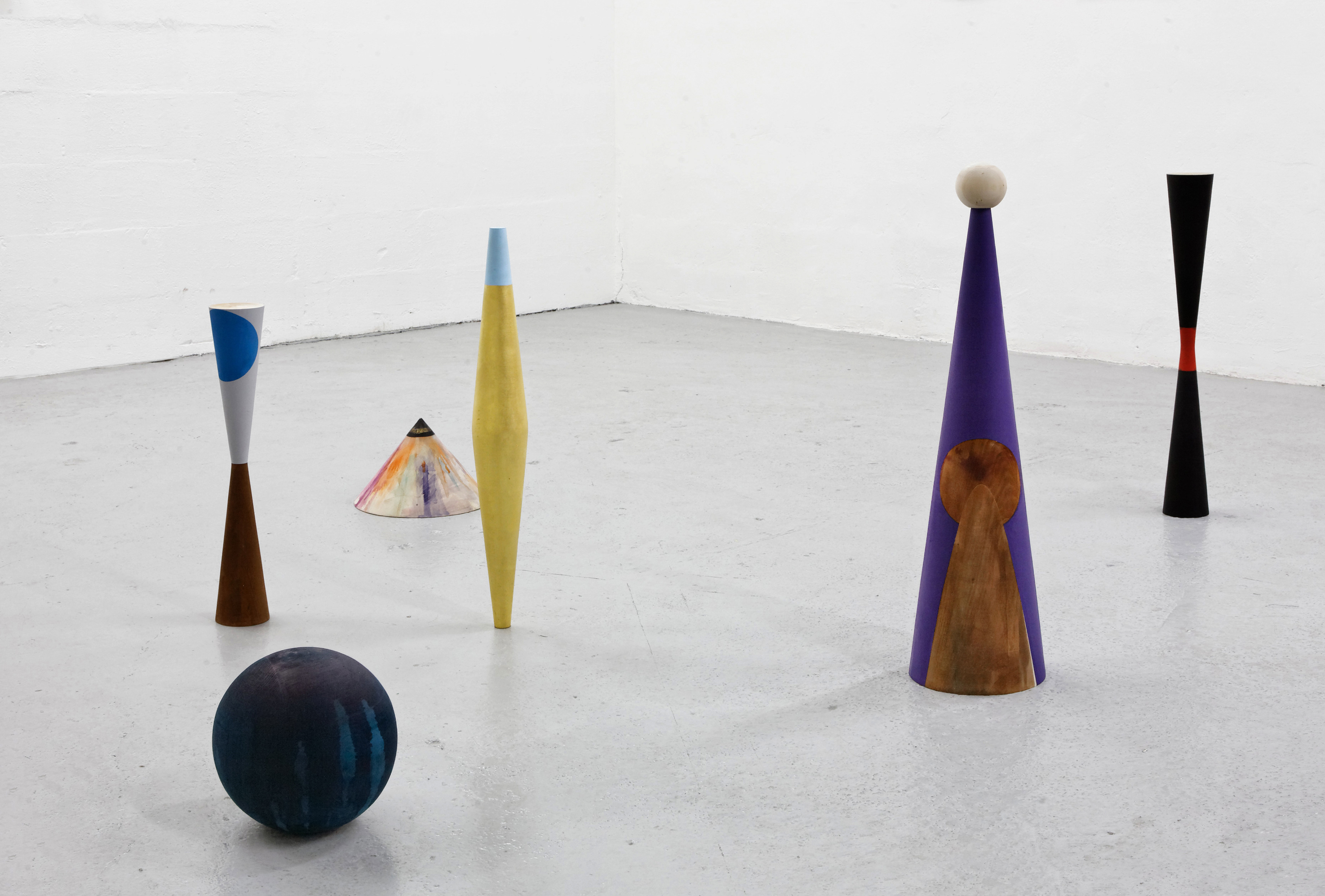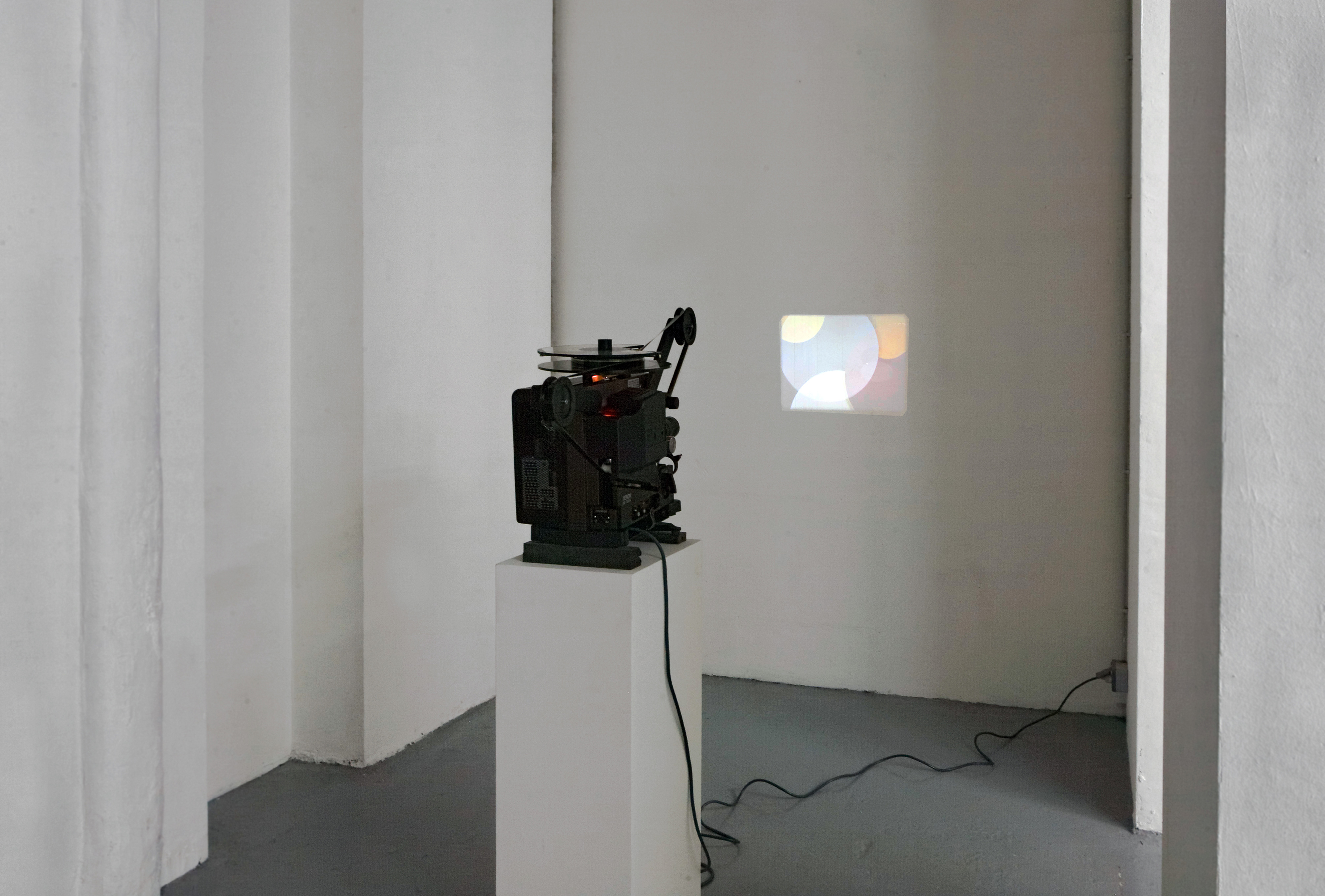 Le titre de ce dernier volet est emprunté au film de Philippe Decrauzat, il fait référence à l'étrange addition qui compose ce cycle d'expositions et désigne le montage cinématographique par l'utilisation de la conjonction « et » reprise ici et ailleurs [2] dans la programmation. D'une durée de quelques secondes, And to End reprend l'épisode final de Dreams that money can buy réalisé en 1947 par Hans Richter, il se compose de plusieurs plans montrant un tapis de jeux couvert de jetons qui apparaissent comme des compositions géométriques aléatoires. Monté de façon saccadée et pulsatoire - dont certains effets éblouissants se rapprochent du principe de Dream Machine initié par Bryon Gyson et Ian Sommerville [3] - ce film 16mm aborde pleinement les questions de rythme, de composition, de traitement d'images formant la base du collage cinématographique, ou plus précisément du montage tel que le décrit Jean-Luc Godard -. Dans Montage mon beau souci, il parle du montage comme étant le fin mot de la mise en scène. Il s'agit assurément de mise en scène ou plus exactement de mise en exposition, des notions tout autant explorées à travers l'installation de Sarah Crowner. En effet, Curtain (Vidas Perfectas) questionne la dimension scénique de l'œuvre par l'intervention d'un rideau spécialement créé pour le décor de Vidas Perfectas/Perfect Lives, un opéra télévisuel comique sur le thème de l'immortalité et de la réincarnation mis en scène en 1983 par Robert Ashley. Cette toile de fond se compose de peintures modernistes « hard-edge » découpées en différents panneaux puis assemblés à l'aide d'une machine à coudre. Ce n'est pas la première fois que Sarah Crowner interroge le potentiel narratif du dispositif en exposant directement certains éléments issus du décor, puisque dans le cadre de son exposition Ballet plastique [4], elle a construit un plateau sur lequel le visiteur devait monter afin de pouvoir observer les toiles, une scénographie en attente entrant naturellement en résonance avec les plateformes sur lesquelles Claudia Wieser installe ses éléments. Des compositions parsemées dans l'espace d'exposition réinterprétant une filiation art&crafts s'établissent à la frontière entre mobilier, objets et sculptures à part entière. D'ailleurs, certaines contiennent des sphères qui ressemblent aux mobiles (de Calder) manipulés par la jeune fille dans Narcissus, le dernier épisode de Dreams that money can buy. Pas si étonnant que cela, vu que les références aux Avants-gardes et notamment au cercle d'Hans Richter sont nombreuses dans le travail de Claudia Wieser. Dans ce film, la couleur est associée à l'idée de transformation et de dédoublement, comme le préconise également Nicolas Roggy à travers son ensemble de "toiles" [5]. Cet alignement horizontal a été véritablement pensé comme une série, ou plutôt un exercice de style dont chacune des peintures se reflète dans la suivante afin de révéler ses multiples trames, fonds et aplats colorés. Il suffit d'ailleurs d'observer les tranches biseautées pour comprendre que ce dépliement dans le temps permet aux peintures de dépasser leurs statuts premiers pour devenir davantage des concepts. Des objets composés permettant de relier [1], de créer des passages entre les différents screens et scopes [6], entre les ondes (déformées) se propageant d'un bout à l'autre de cette trilogie.
_
1. Ici et ailleurs est un film d'Anne-Marie Miéville et de Jean-Luc Godard qui symbolise dès son titre l'idée de montage.
2. C'est une expérience vécue par Brion Gysin en 1958 qui l'amena à concevoir la Dream Machine : "J'ai eu un déchaînement transcendantal de visions colorées aujourd'hui... Nous roulions sur une longue avenue bordée d'arbres et je fermais les yeux dans le soleil couchant quand un flot irrésistible de dessins de couleurs surnaturelles d'une intense luminosité explosa derrière mes paupières, un kaléidoscope multidimensionnel tourbillonnant à travers l'espace…"
3. Ballet Plastique, 10 septembre – 12 novembre 2011, galerie Catherine Bastide, Bruxelles. 
4. Le terme est ici placé entre guillemets car il ne s'agit pas de toiles à proprement parler puisque la peinture est appliquée sur des plaques en pvc.
5. Les termes sceens et scopes font référence au film Screen-o-scope de Philippe Decrauzat (16mm, 2010, 4'15'').
//
The heading of this last part has been borrowed from Philippe Decrauzat's film – it is a reference to the strange addition this exhibition cycle is made up of and it points to film editing with its use of the conjunction "and", which is found here and elswhere [2] throughout the program. A few second long, And to End takes up the final episode of Hans Richter's 1947 Dreams that money can buy. It is made up of several shots showing a playing mat covered with chips that appear like random geometrical designs. With its jerky pulsating edit – some of its dazzling effects remind us of the Dream Machine concept initiated by Bryon Gyson and Ian Sommerville [3] – this 16mm film fully addresses the questions of rhythm, composition, image processing which are at the basis of collage in film, or more precisely of editing as Jean-Luc Godard defines it. InMontage, mon beau souci, the director describes editing as being an integral part of "mise-en-scene". It is certainly about "mise-en-scène" or more exactly about "mise-en-exposition", two notions that are examined as well in Sarah Crowner's installation. Indeed, Curtain (Vidas Perfectas),challenges the theatrical dimension of a work through the intervention of a curtain specially created for the setting of Vidas Perfectas/Perfect Lives, a televisual comic opera on the theme of immortality and reincarnation staged by Robert Ashley in 1983. This backdrop is made up of "hard-edge" modernist paintings cut into several boards and put together with the help of a sewing machine. It isn't the first time Sarah Crowners questions the story-telling potential of the device by directly exposing some elements from the setting: in the frame of her exhibition Ballet plastique[4], she had built a stage on which visitors had to climb in order to be able to look at the paintings - a pending scenography that naturally echoes with the platforms Claudia Wieser uses to set up her elements. These compositions scattered in the exhibit area, reinterpreting an art & crafts filiation, seem to be at the very limit between furniture, objects and fully-fledged sculptures. Furthermore, some of them contain spheres similar to the mobiles (by Calder) that the young girl handles in Narcissus, the last episode of Dreams that money can buy. Not all that surprising, since the references to Avant-garde and especially to Hans Richter's circle are plenty in Claudia Wieser's work. In this film, colour is associated with the idea of transformation and of splitting into two, the same way Nicolas Roggy advises in its set of "canvasses" [5]. This horizontal alignment has been designed as a series, or rather as an exercise in style in which each painting reflects in the next in order to reveal its multiple threads, backgrounds and flat areas of colour. Just by looking at these bevelled slices, one understands that this unfolding into time allows the paintings to transcend their original state in order to become concepts - composed objects that link [1] and create connections between the different screens and scopes [6], between the (altered) waves that ripple from one end to the other of this trilogy.
_
1. Here and Elsewhere is a film by Anne-Marie Miéville and Jean-Luc Gordard which symbolizes, already with its title, the idea of editing. 
2. At the origin of the Dream Machine is an experience Brion Gysin had in 1958:" I had a transcendental storm of colour visions today... We ran through a long avenue of trees and I closed my eyes against the setting sun. An overwhelming flood of intensely bright patterns in supernatural colours exploded behind my eyelids: a multidimensional kaleidoscope whirling out through space…"
3. Ballet Plastique, September 10 – November 12, 2011, Catherine Bastide gallery, Brussels. 
4. The word is placed between inverted commas because they are not really canvasses, since the painting has been applied on PVC slabs. 
5. The words screens and scopes are a reference to Philippe Decrauzat's film Screen-o-scope (16mm, 2010, 4'15'')
Translated by Gwenaëlle Buchet